Call Hawaii Disaster Restoration for Storm Damage Restoration in Kahului
Your Hawaii Storm Damage Restoration Company





100% Customer Satisfaction
A Storm Damage Restoration Company
You Can Trust
If your area experiences extreme weather conditions, it is inevitable that you'll need storm damage restoration services at some point.  Wind storms can be dangerous to the structure of your building as high-speed winds loosen the tiles or shingles of a roof. If shingles loosen, the rain or moisture can easily infiltrate into the topmost protective surface of your roof. This often results in the wood swelling and disintegrating, before becoming moldy if left unattended. To make matters worse, this outcome leads to sagging roofs or ceilings and plenty of other problems.
Elements like rain, wind, lightning, and hail can turn your life upside down if you do not estimate the damage or seek help from reliable storm damage restoration services. Hawaii Disaster Restoration's storm damage restoration team can help you clean up and make repairs during an emergency. We offer a variety of storm damage restoration services to help you deal with a crisis. Kahului property owners count on us 24 hours a day, 7 days a week for Maui storm cleanup. We perform storm board up services, storm damage cleanup, and storm tree damage repairs throughout Maui, Hawaii, including: Haiku, Kahului, Kihei, Lahaina, and Wailuku. Call us for all of your Hawaii storm damage needs.
Schedule a
Free

Maui Storm Cleanup Inspection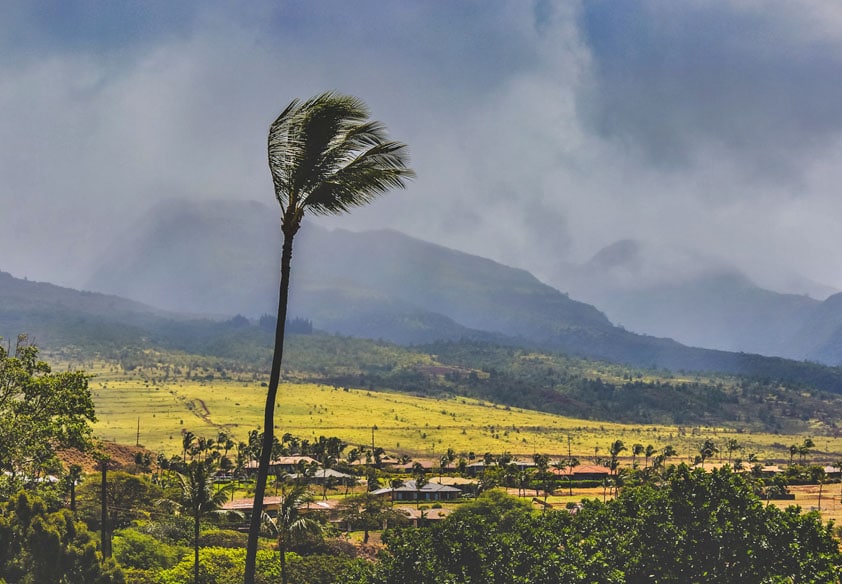 Hurricane Damage
Heavy winds can ruin the structure of your house, particularly the roof. The storm damage your property gets from a typhoon weakens the structure and allows moisture to seep through. Our storm damage restoration experts work quickly to minimize expenses.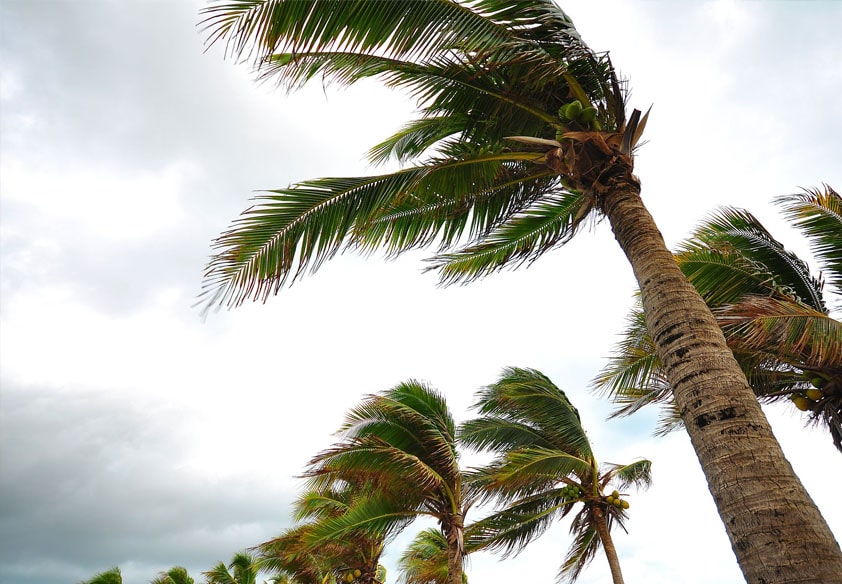 Wind Damage
High-speed gales can create several problems for homeowners. They often rip shingles off the property and expose it to further weather damages. Hawaii Disaster Restoration brings your home or business back to life. We do skillful storm damage repairs to make your space habitable.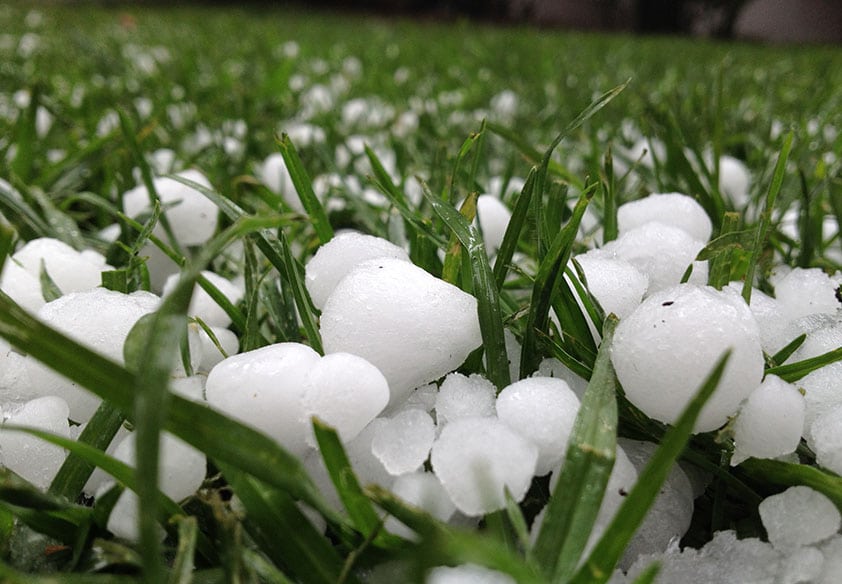 Hail Damage
Hail damage has severe consequences for the structure of your property. Massive hail storms cause cracks and splits on the roof, reducing its protective abilities. Plus, hail damaged roofs increase UV exposure to the underlying roof components, decreasing the lifespan of the roof.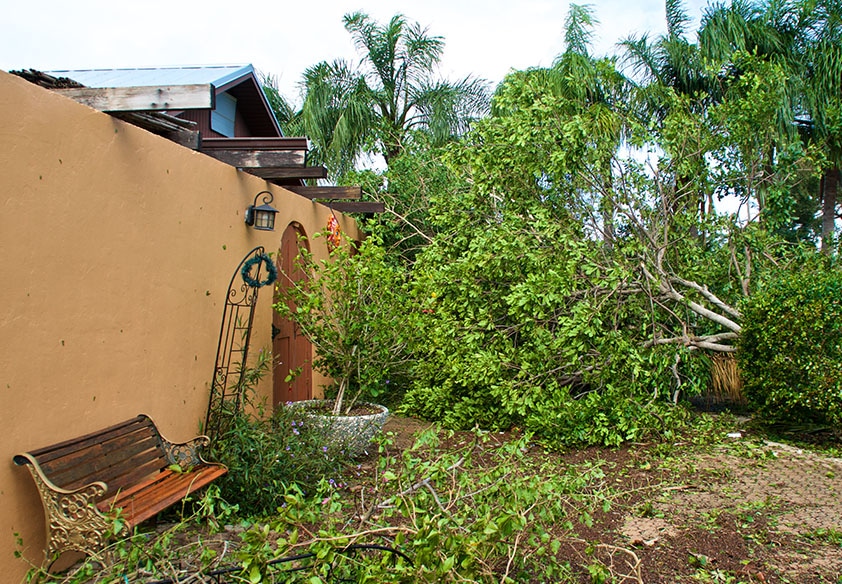 Storm Tree Damage
Storm tree damage is detrimental to the structural soundness of your property. Trees and loose limbs create hazards when they land on your dwelling, compromising the integrity of walls, roofs, and doors. Hawaii Disaster Restoration can help you today.
The best time to take action is before a storm. However, Hawaii Disaster Restoration realizes that there isn't always enough time to prepare. For this reason, we offer storm board up services both before and after a natural disaster.
Brace your property from disaster by ordering storm board up services before the elements hit. This minimizes the chances of glass being blown out into your home or business by high winds and branches. Our trained storm damage restoration team skillfully completes the storm board up of your property without making cosmetic alternations or damages.
Alternatively, call us after the storm for quick storm board up too. By having Hawaii Disaster Restoration do your storm board up, you lessen the opportunity for the elements, vandals, looters, and animals to enter. No matter how many doors, windows, garage doors, roofs, or holes, you need covered, we easily meet your storm board up needs.
Contact Us for 
Swift Storm Damage Cleanup
Hawaii


Storm Damage Cleanup
Swift storm damage cleanup is one of the most critical steps you need to take to protect your property from suffering more damages. Call the storm damage cleanup professionals at Hawaii Disaster Restoration as soon as possible after a storm hits your area. We begin the storm damage cleanup process with a thorough inspection of the place to determine how much damage is done. 
Our storm damage cleanup team inspect the exterior of your home and your roof from the ground level to determine damages. Once the property is inspected, Hawaii Disaster Restoration starts the storm damage cleanup process by removing the rubble and debris. Depending on the type and degree of damage, the restoration team uses special equipment to speed up the process. In the case of flooding, the team uses vacuums and pumps to extract water from your property.
Moreover, Hawaii Disaster Restoration utilizes air movers and dehumidifiers to clean mildew and mold that can make the matter worse. We use customized cleaners to disinfect the salvageable carpets and hard surfaces. To combat odors, deodorant is applied. Our Maui storm cleanup process is unmatched by competitors.
Storm tree damage repair is another aspect you need to consider when hiring a storm damage restoration service. A fallen tree can cause damages to your property in many ways. It may break the walls, glass windows, and damaged shingles. 
Big branches can damage the structure of your property. Of course, you should not try cleaning up the debris of storm tree damage yourself if you lack the expertise. It is always better to hire professionals to remove branches and make storm tree damage repairs if a tree fell on the property.
Hawaii Disaster Restoration's storm tree damage team has the equipment and knowledge needed to safely and efficiently remove limbs from your property. By repairing storm tree damage, we help you get back to your normal life.
Why Choose


Hawaii Disaster Restoration
There's no denying that a severe storm changes everything within minutes. No matter what type of storm damage your home goes through, you need storm damage restoration services to return to normal conditions. Only the experts at Hawaii Disaster Restoration can handle the Maui storm cleanup, repairs, and restoration. We work for you, the property owner. We provide high-quality Hawaii storm damage restoration services on Maui. 
We bill directly to insurance
Hawaiian values run our company
30 minute or less response time
Above All, Your Satisfaction is

100%

Guaranteed
Schedule A
FREE

Inspection

Fill out our form below with your info and details on your project

A team member will receive your request and promptly reach out to you

We work together to schedule an inspection time that works best for you